Surprise friends and family with awesome gear that won't bankrupt you.
---
When it comes to finding the best gaming gear around to give to your loved ones, SteelSeries is your one stop shop. But it's also the best place to buy gifts that you don't have to spend an arm and a leg on. Case in point: we'e got plenty of options for gifts under $50, and now we're going over gifts under $100 that everyone on your list will absolutely love. From headsets to keyboards and everything in between, we've got goodies to round out your shopping list in the best way. If you're looking for some great gifts under $100 that also double as serious crowd-pleasers, keep reading. You might just find something you want, too!
Arctis 1 Wireless
The Arctis 1 Wireless is a 4-in-1 gaming headset that offers ultra-low latency lossless wireless for PlayStation, Nintendo Switch, PC, and Android. It's everything a gamer needs to enjoy their favorite game at home or on the go. It includes a Discord-ceritified detachable microphone as well as the same high-performance speaker drivers as the award-winning Arctis 7, and it's even compatible with the PlayStation 5's Tempest 3D AudioTech. Plus, it's comfortable for long-term wear and looks great when it's on your head. It's a great gift that you won't have to splurge on, too.
Arctis 7 Black
This wireless headset is perfect for any gamer looking for lossless audio and low latency gaming. It also happens to include the best mix you can get: the Discord-certified ClearCast bidirectional microphone. It even comes complete with next-generation DTS Headphone:X v2.0 surround sound. Plus, it comes packing 24-hour battery life to help enhance lengthy gaming sessions. It comes in black and white, so you can choose the hue you gift, too.
Arctis Prime
The Arctis Prime is part of the excellent Prime series, which offers professional quality at a price buyers can afford. The Prime headset includes advanced high fidelity audio drivers with the same hardware and tuning that the Arctis Pro uses. It's built for durability and lightweight performance with aluminum alloy and steel, and it includes noise isolating leather-like ear cushions so you can play in comfort for hours. Further, its Discord-certified ClearCast microphone makes chatting with friends a breeze.
Aerox 3 Wireless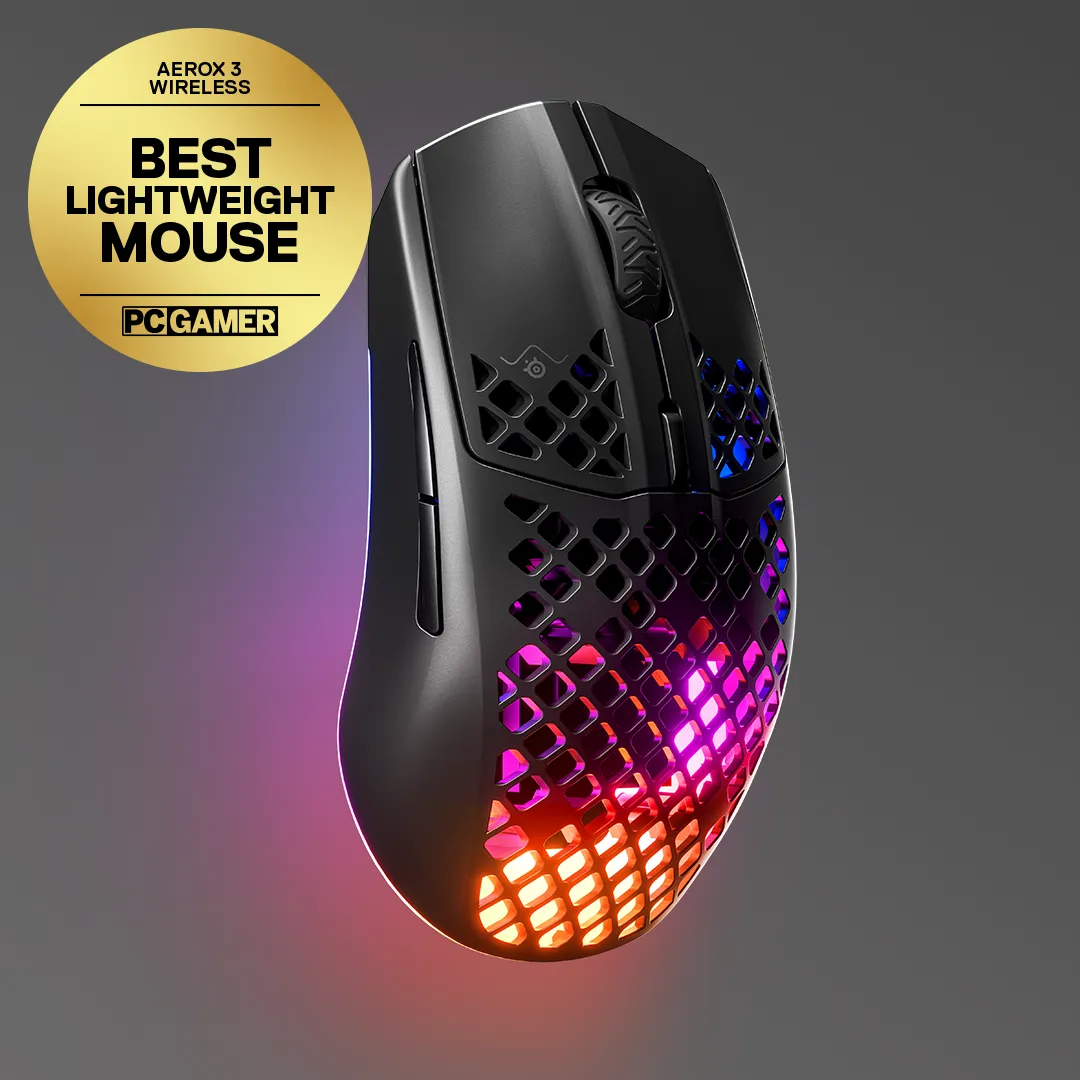 The holiest mouse in gaming (see what we did there?) is an ultra lightweight 68g design meant for effortlessly fast gameplay. It'll last an unbelievably long time, with an optimized 200 hour battery life, plus USB-C fast charging. It's reliable for both casual and pro-level gaming, and offers dual connectivity via gaming-grade 2.4 GHz and multi-purpose Bluetooth 5.0. Plus, there's no need to worry about spilling any liquid inside the mouse. It features AquaBarrier technology for water resistance and protection from dust and more. Choose from both Onyx and Snow hues when you make your purchase.
Rival 5
This mouse is an excellent option for any FPS, MOBA, MMO, battle royale, or other fast-paced games. It offers TrueMove Air precision optical sensors with true 1-to-1 tracking, and an ergonomic 9-button programmable layout with 5 quick-action side buttons. It lights up beautifully with PrismSync lighting with 10 zones of 16.8 million colors, and next-gen Golden Micro IP54 switches. Perhaps most importantly for some players, its 85g competitive lightweight status and durability make it an awesome choice for pros or those who want to break into professional gaming.
Apex 5
This hybrid mechanical gaming keyboard is guaranteed for up to 20 million keypresses with its blue switches, so anyone you choose to buy it for will be able to enjoy it for years to come. It also includes a special OLED Smart Display, which shows special game profiles, info, Discord messages, and more. The entirety of the keyboard is sturdy and reliable as well, made of aircraft-grade aluminum alloy with a premium magnetic wrist rest that offers full palm support when at rest. It's an excellent keyboard for gamers and even casual computer users. Plus, its RGB lighting looks great.
QcK Prism Cloth XL
Give the gift of a massive mousepad to your friends and family. This large mousepad is big enough to cover the entire surface of a desk. It features 2-zone RGB dynamic illumination, and it's crafted from QcK micro-woven cloth to enhance mousing movements, optimized for both low and high DPI tracking movements. It'll protect any desk surface while looking super stylish in the interim.
---
Check out the SteelSeries gaming gift guide for our top gear picks this year sorted by price, compatibility, and more.
Read more