Looking for a great gift for the Minecraft fans you know? Let us help you out with a few simple suggestions for the holidays.
---
Minecraft is one of the most popular sandbox games in the world. You can create just about anything you want. It's fun to jump in solo or with friends and create structures, go on journeys to eliminate mobs of Creepers and Endermen, and see everything there is to see within the world.
Also, be sure to browse our gaming gift guide full of great picks for any gamer, and read up on our tips for shopping for your gaming friends.
Minecraft: The Island: An Official Minecraft Novel
Give your favorite Minecraft fan an exciting story about the game's lore. The author of World War Z tells the tale of a hero who finds themselves stuck in Minecraft with a mysterious island to uncover the secrets behind. This New York Time Bestseller will enthrall young readers and older Minecraft fans alike.
---
Rival 3 Mouse
Give any Minecraft player an edge with the SteelSeries Rival 3 mouse. It's durable, with a guaranteed 60 million clicks thanks to its mechanical switches. It's also great for smaller hands, if you're looking to upgrade a certain younger Minecraft player's setup. Plus, it's affordable at any budget!
---
Minecraft Sword
This replica sword may not be able to protect you from real-world threats, but it sure does look cool. Give it to anyone who wants a reason to tote around a diamond sword, pulled straight out of Minecraft. You'll never see more swagger pulsing through someone's body.
---
Ravensburger Minecraft: Builders & Biomes Strategy Board Game
This cool strategy-centric board game transcends the boundaries of the video game world and invites players to go on their own adventure with custom biomes, buildings, and monster cards. This is a great choice for older fans or younger Minecraft enthusiasts looking for a way to enjoy their favorite series outside of their computer or console.
---
The Ultimate Unofficial Encyclopedia for Minecrafters: An A - Z Book of Tips and Tricks the Official Guides Don't Teach You
Even the most seasoned Minecraft players sometimes need some help uncovering the secrets in-game. Take it from this Minecraft expert to guide you through some of the coolest tips and tricks found in-game to guide you through some of the lesser-known knowledge that the official books won't tell you. There's a lot to learn, so you might even be moved to keep the book yourself.
---
Minecraft Dungeons Hero Edition - Nintendo Switch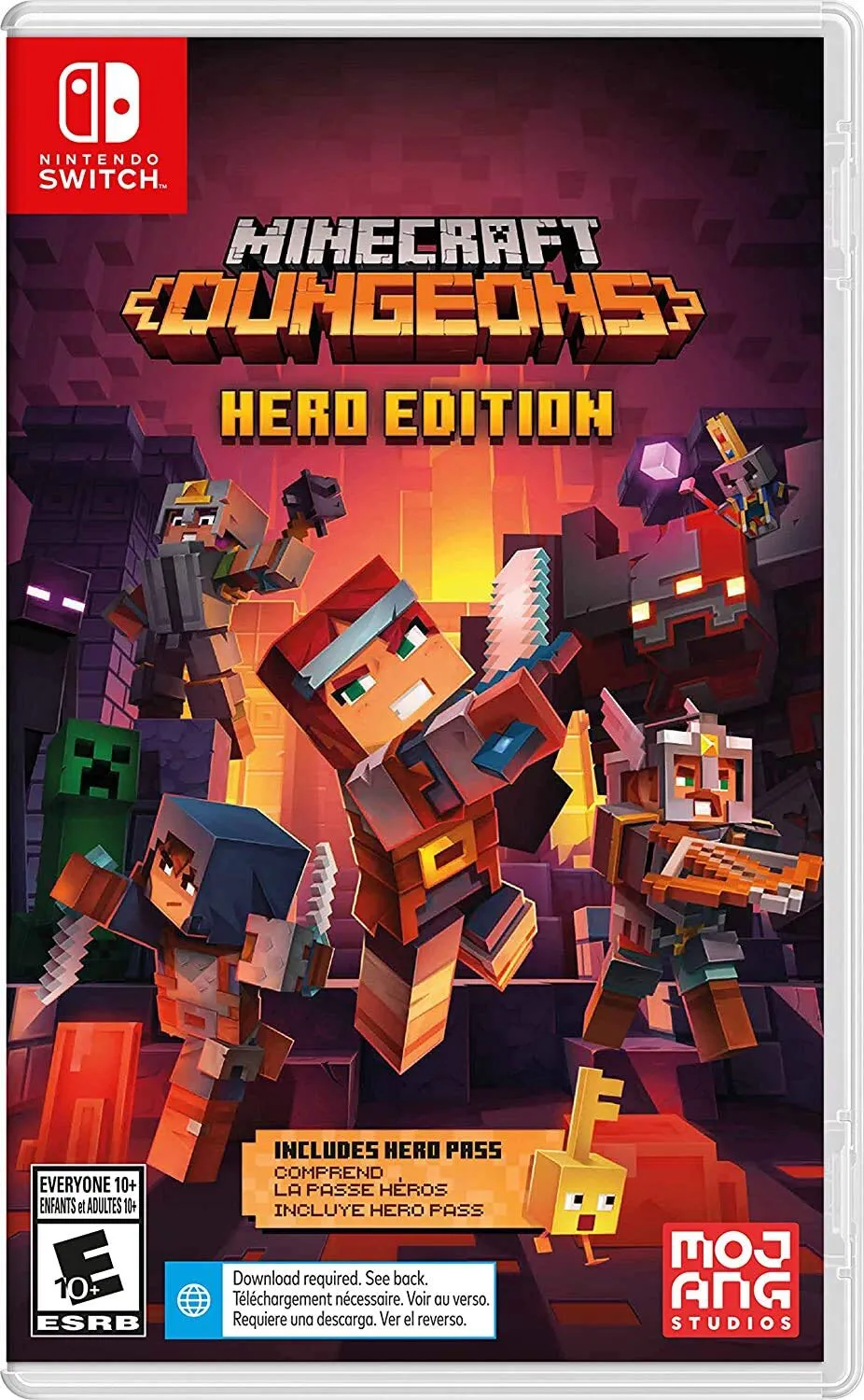 Minecraft as a base game is extremely entertaining already, but what if it had more RPG and dungeon-crawling elements? That's what you get with Minecraft Dungeons. You can go it solo or invite friends to journey through dungeons with you to take out monsters and collect sweet loot. It's a totally different take on the Minecraft universe that you can go back and enjoy again and again. This is a great option for anyone who's already exhausted dozens of hours in the original Minecraft.
---
Arctis 1 Headset
Whether you know someone who's been gaming for years who needs a headset upgrade or you want to help out a young Minecraft player so they can chat with their friends, the Arctis 1 is a great entry-level headset that can be used on any platform. It also features a special detachable ClearCast noise canceling microphone for great clarity in voice chat as well as a steel-reinforced adjustable headband to fit anyone.
---
LEGO Minecraft The Zombie Cave Building Kit
Everyone can appreciate an intricate Lego model kit. This particular Zombie Cave set has plenty of pieces as well as a Steve figure so that whoever receives it can relive their favorite adventures. It offers plenty of fun for just about anyone, especially those who love Creative Mode and working with their own awesome structures they've come up with in Minecraft. Plus, when it's done, it can be proudly displayed!
---
Minecraft Creeper Mob Snapback Baseball Hat
Walk around in style repping one of the nastiest Minecraft mobs ever. You never know when this guy's going to blow, but he sure does make a super fun hat. Just don't lose your cool if you decide to go out wearing it. You never know what might happen.
---
Apex 3 Keyboard
The Apex 3 is a water-resistant keyboard with RGB customization that's great for any gamer on PC or Mac. It's whisper-quiet, includes a premium magnetic wrist rest, and even includes dedicated multimedia controls for use while players are a few blocks deep into their own mines. Grab this formidable keyboard for any Minecraft player who loves gaming on their PC or Mac. It also now comes in a TKL version.
---
Check out the SteelSeries gaming gift guide for our top gear picks this year sorted by price, compatibility, and more.
Read more
Looking to figure out the best gifts for those special gamers in your life? Join the SteelSeries Discord!