These gifts make the best gear for any aspiring pro player.
---
When gaming means more to you than just a hobby, you want the best equipment you can get your hands on. Having a mouse that's as fast as you are could mean the difference between a pro contract and sitting at home spinning your wheels. A keyboard that just can't perform at your level might be holding you back. Unlock your potential as an up and coming esports superstar with gear that helps you prepare for anything.
One great option is our Prime line, which is our complete pro series of peripherals created in tandem with some of the top esports players in the game. Each item has been meticulously designed to help you achieve victory. So whether you're looking to absolutely shred the competition this year or you know someone you'd like to help achieve greatness with equipment as amazing as they are, we've got a selection of products that you'll love. And you don't have to be an aspiring player to love it, either. You can be a massive esports fan and still benefit from our line of gaming gear.
Here are a few picks that'll delight anyone dreaming of competing as a professional gamer or cheering one on from the sidelines.
---
Prime Mouse
The Prime Mouse is a fantastic option for anyone looking to either make a move to go pro or just play like one. This wired mouse comes with lightning-fast Prestige optical magnetic switches that can deliver over 100M crispy clicks, so you'll be gaming with it for some time to come. Plus, with pro grade precision tracking with the TrueMove Pro gaming sensor, your movements will translate as quickly as you make them. It's also ultra lightweight at just 69g, with a textured matte design developed in tandem with some of the top pros in the esports industry. You can customize it yourself as well, with on-board customization with pre-set polling rates and CPI profile settings. And if you want to, you can even detach the mesh cable. It's everything you could want out of a mouse and more.
---
Arctis Prime
If you're going to go big, you need a headset that handles it all. The Arctis Prime is an excellent option that you won't regret giving or keeping for yourself. It features advanced high fidelity audio drivers with the same premium hardware and tuning from the Arctis Pro, so you know you're getting that signature SteelSeries sound. It's also built to be durable, while remaining lightweight, crafted from aluminum alloy and steel. Plus, noise isolating leather-like ear cushions keep you ready to jump in and and out of the game as long as you need to play. Shout out commands to your team with the Discord-certified ClearCast microphone. And use this headset with a variety of platforms, thanks to the detachable 3.5mm ClearCast cable that's compatible with Xbox, PlayStation, Switch, and PC.
---
Apex Pro TKL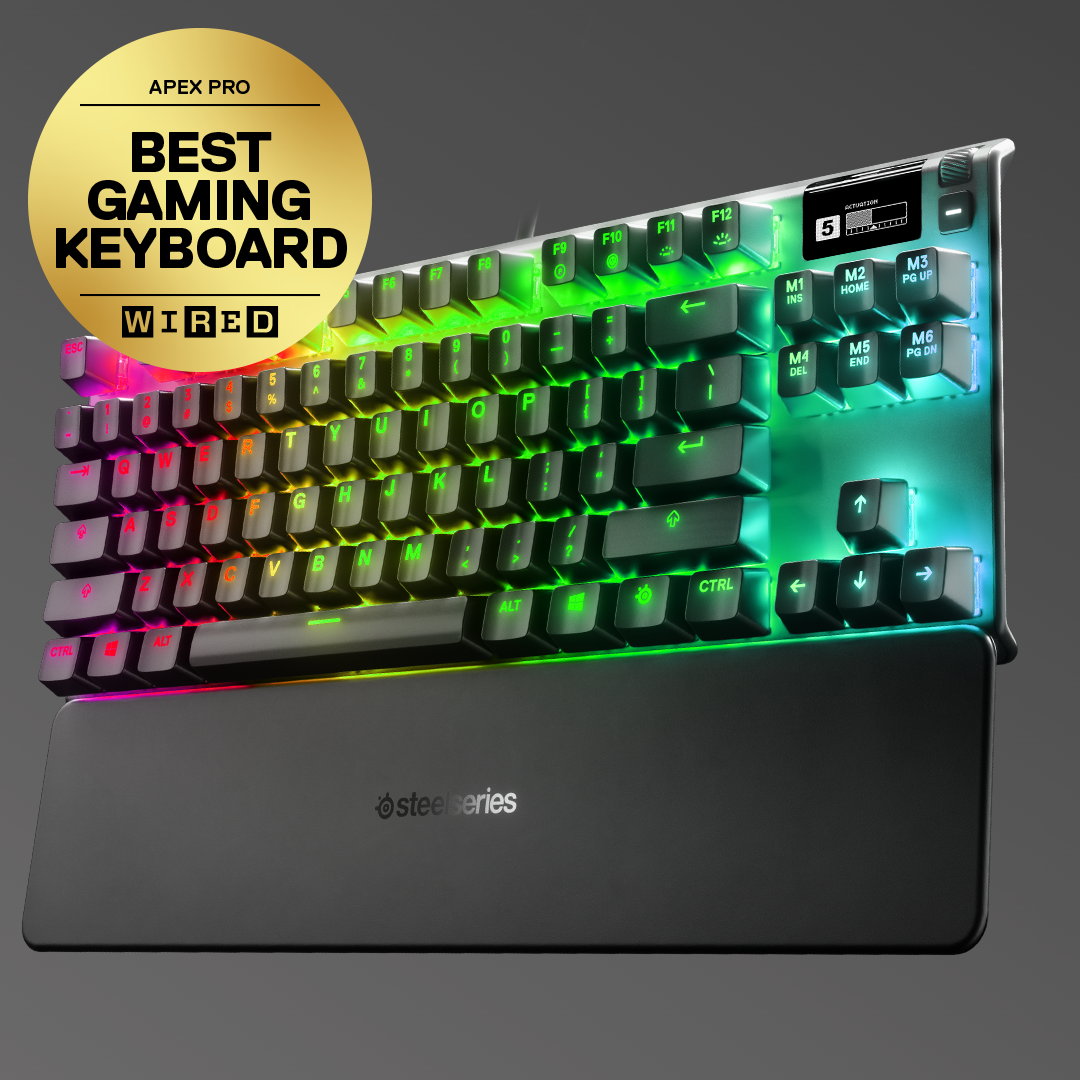 You don't always need a keypad to play like a pro. The Apex Pro TKL proves just that. It's sized just right for any player, especially one looking to get into the esports game. This tenkeyless option features 8x faster response, 5x faster actuation, and 2x durability. It also has first-of-its kind adjustable mechanical switches for customizable per-key sensitivity. Plus, you can change up its OLED Smart Display to bring you information straight out of your favorite games and apps. Stay frosty with the detachable soft touch magnetic wrist rest, and know even if you have to rage quit a game or you're giving the keyboard to someone who does, the series 5000 Aircraft grade aluminum frame will keep it safe.
---
Apex 3 TKL
A great keyboard is a necessity for any gamer, pro or not, and the Apex 3 TKL is another option that comes highly recommended. It's extremely quiet, so if you or someone you know needs to practice in silence, you get the quietest gaming switches possible that last for over 20 million keypresses. Not only is it quiet, but you can change up the bright RGB illumination that will react on its own to both games and Discord. Change up your music and multimedia with dedicated controls to adjust both. And don't worry about potentially splashing any energy drinks on it, because it's IP32 water resistant to protect you against any errant spills. It's everything an aspiring pro needs to pursue super-stardom.
---
QcK 4XL
If you've got all the equipment you need to jump in-game, you should also try out a new mousepad, too -- or suggest it to any champ in the making. The QcK Large is a cloth gaming mousepad that can cover the length of your desk, depending on the size, and it'll help make all your movements silky smooth. It's crafted from micro-woven cloth for maximum control, and it's optimized for both low and high CPI tracking movements. If you happen to spill anything on it, you can wash it easily as well. It's durable, so you can wash it if you ever spill anything on it. Plus, the pros are already using it, so you know they're on to something.
---
Check out the SteelSeries gaming gift guide for our top gear picks this year sorted by price, compatibility, and more.
Read more
Need some other gift ideas for gamers? Join the official SteelSeries Discord!