It's time to harness the speed of light with our newest gaming keyboard selections. Enter the Apex 9 TKL and Mini, which help you outpace the competition with OptiPoint Optical Switches.
---
At SteelSeries, we're all about equipping you with the greatest tools to earn you Glory. We're making headway in gaming keyboards with a brand new offering: the Apex 9, available in both TKL and Mini forms. Conquer new ground with OptiPoint Optical Switches that harness the power of light to respond to your presses faster than any other optical keyboard on the market. And that's just the beginning.
Whichever keyboard size you prefer, both sizes are ergonomic and save space on your desk. Let's run through their features.
All the power you need to win, contained in a sleek, TKL keyboard form. The Apex 9 TKL helps you dominate with its OptiPoint Optical Switches for an incredibly fast response time, offers adjustability, and swappable switches.
Speed of Light: 33% Faster actuation. 0.2 MS response time. All win. Zero debounce. The OptiPoint Optical Switches dominate the leading optical keyboards with unquestionably superior performance.
Adjustable Actuation: Select between two actuation levels: from a deeper 1.5 mm to a lighter, faster 1 mm to give you that edge in games.
Swappable Switches: The Apex 9 switches are swappable, so you'll be able to customize this keyboard for your personal favorites.
Ergonomic TKL Form: The tenkeyless form factor is preferred by esports pros and offers more space for important mouse movements.
Double Shot PBT Keycaps: Specially engineered to feel better for your keystrokes and prevent slipping, they're also incredibly long-lasting.
Durable Aluminum: Feel like a military strategist at your desk with a keyboard with a frame made with the same material as jets. That's pretty fly.
Engine Customization: Make the keyboard truly shine with lots of options in the GG engine app -- everything from changing keybinds, actuation, to RGB lighting.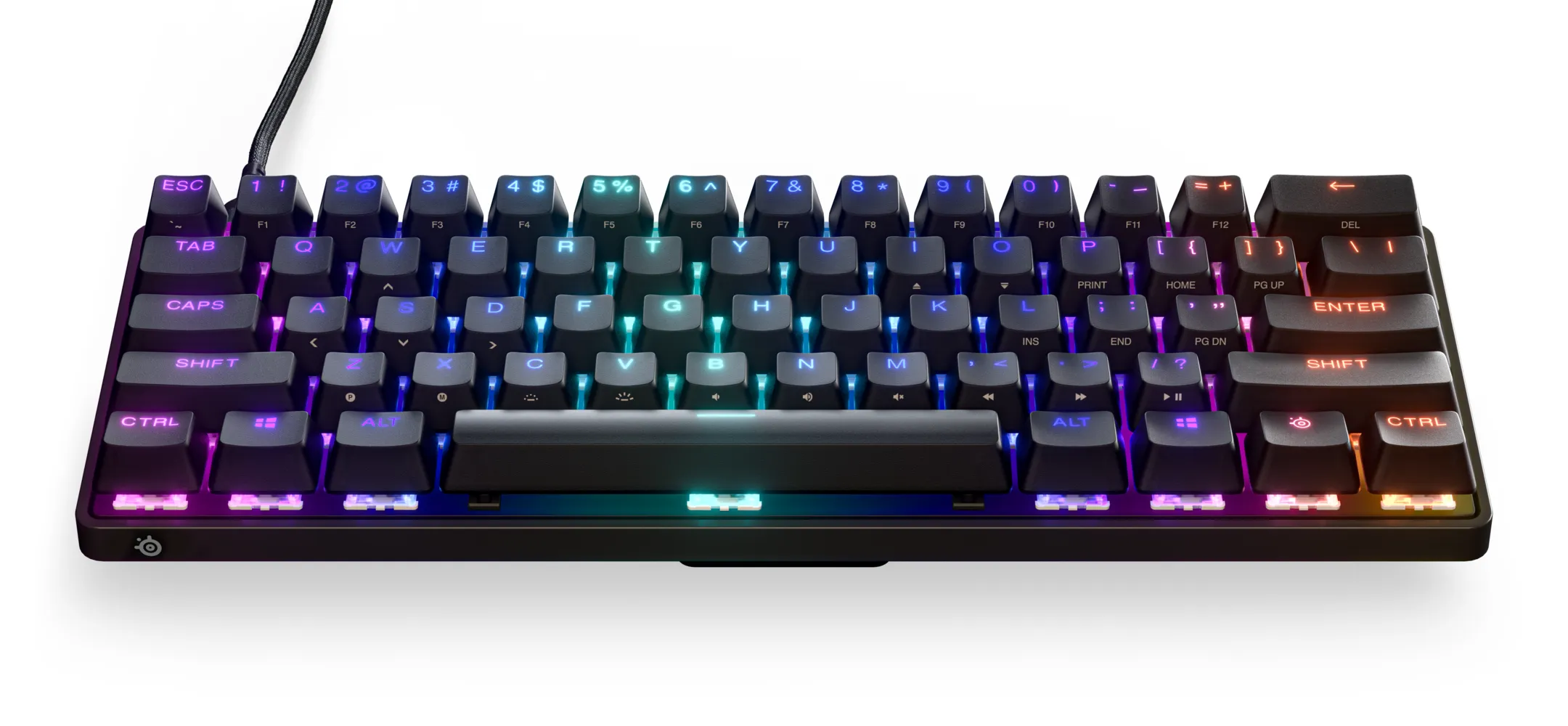 For the minimalist, enjoy those powerful features contained in the Apex 9 Mini. It has the same OptiPoint Optical Switches with adjustable actuation, swappability, and customization with Engine. The choice is entirely yours.
Compact Mini Design: The 60% gaming keyboard design saves space on your desk and is ideal for the competitive gamer or those who want a stylish, minimalistic look.
Side-Printed Functions: You'll notice additional markings on the side of the keys of the Apex 9 Mini, granting you powerful options available at your fingertips. Those options can also light up to stand out as you access them with a keypress.
Double Shot PBT Keycaps: The mentioned keycaps are fadeproof and specially engineered to feel better and prevent slipping.
Adjustable Tilt Legs: Both keyboards feature three levels of adjustability for the tilt legs to make your hands as comfortable as you like.
Are you ready for the fastest optical keyboard? Check it out in action, and see our new Apex Line page to see which keyboard will help you win.