N-Key rollover, anti-ghosting, macros, mechanical switches... If you're new to the world of gaming keyboards, it's easy to get overwhelmed. Fortunately, we've compiled all of the most important features and discuss why they matter to you.
---
Time to Get Serious
The keyboard that came with your PC might be good enough for casual emails and essays, but if you want to get serious about your gaming, you need the right tools. There's a reason teams like Evil Geniuses don't compete with Dell or Lenovo keyboards. The gaming keyboards competitive players use are engineered for high-performance and reliability, even after years of heavy use (and abuse).
Is It Worth It?
So, what makes a gaming keyboard so special? Is it the flashing lights and the hyper-futuristic designs? Sure, these features make a keyboard stand out, but they do very little to improve your experience. Instead, let's focus on the features that will immediately impact your day-to-day gaming.
Key Rollover (aka Anti-Ghosting)
Switches
Build Quality
Macros and Customization
Price
Key Rollover and Anti-Ghosting
Simply put, Key Rollover measures how many keypresses your keyboard can register at once.
Most standard keyboards offer 1- or 2-Key Rollover (1/2KRO). Press more than that at once, and the additional keystrokes either won't register, or your keyboard will register additional unpressed keys. This is an issue more commonly known as "ghosting."
Laptop (2-Key Rollover) vs. Apex M500 (N-Key Rollover)
To avoid ghosting, quality gaming keyboards come with a minimum 6-Key Rollover. 6KRO allows enough simultaneous keystrokes for fast typists and most gamers. If you're seeking competitive-level performance, keyboards with N-Key Rollover (NKRO) are guaranteed to register EVERY keystroke.
Switch Types
Beneath each key, there's a physical switch that registers a keystroke. Let's look at the two most common switch types - membrane and mechanical.
| | Membrane | Mechanical |
| --- | --- | --- |
| Usual Price Range | $30-$100 | $80-$200 |
| Lifespan | 1-5 Million Keystrokes | 50+ Million Keystrokes |
| Popular Switches* | Rubber Dome | Red, Blue, Black, Brown |
| Keypress Feel | Linear or Soft Bump | Linear (smooth, no bump) to Tacticle (clicky "bump") |
| Keypress Sound | Nearly Silent | Soft to Very Loud |
Mechanical switches are durable and offer more variety, but these options come with a higher price tag. Mechanical switches (on average) are also much louder than membrane - if you don't want to wake up everyone in the house, either go membrane or pick the right mechanical switch type.
Build Quality
Gamers are not the gentlest of creatures. Sure, your current keyboard can handle the light tapping required to share a meme, but fast-paced gaming results in frantic button-mashing (and the unavoidable rage that may follow).
Gamers can be very…expressive. (source: YouTube)
You need a keyboard that's made to last. Fortunately, gaming keyboards are built with durability in mind. Most high-end keyboards feature metal backplates, which eliminate flex and the risk of bending/breaking. Metal or ultradurable plastic housings encase the keyboard components, supporting and protecting the switches and circuitry within. These high-quality plastics are oil-resistant and manufactured to last the life of your keyboard.
Among standard keyboards, the most commonly used plastic is PVC (yeah, like the pipe). PVC is inexpensive, but shows wear and breaks easily. Luckily for you, gaming keyboards almost always offer a more durable solution. Plastics like ABS are much more durable, made to resist natural oils and withstand the stress of repeated, forceful keystrokes. If you want the best, you want metal or ABS.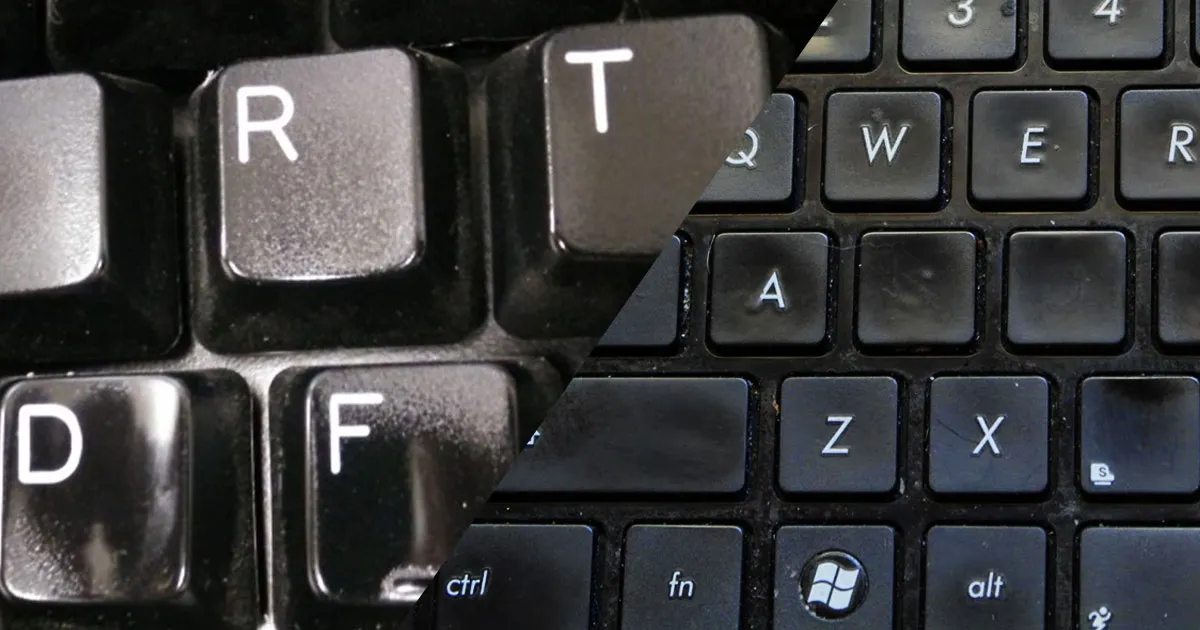 Plastics like PVC (above) deteriorate over time, developing shiny, oily surfaces and worn out keys.
Macros and Software Customization
Gaming keyboards allow you to reprogram the function of any key. You can use included software to record an entire sequence of keystrokes and mouse clicks. This is useful for activating multiple skills or abilities with a single tap. Some gaming keyboards even have additional unassigned keys meant specifically for macros.
For example, a macro key can be bound to launch Steam or Discord, trigger an insanely complex combo on cooldown, or load a game-specific profile with all your favorite presets.
Backlighting
Backlighting comes standard on almost all gaming keyboards, from single color to full RGB (16.8 million colors). Single color backlit keyboards have the option to adjust brightness, but not much else. Full, per-key RGB offers individual key color customization, as well as effects (breathe, wave, colorshift, etc.).
Using customization software, you can change individual key colors and settings. (ex: Apex M800 using Disco Mode).
There's no denying a full setup looks way more impressive with synced illumination across all devices. If your PC case and mouse glow blue, and your desktop wallpaper is blue, you're going to want a keyboard that glows blue. If you like the idea of mixing it up, an RGB keyboard is the way to go.
While a full collection of glowing accessories will make your setup visually stunning, illumination can also improve your in-game experience. Certain applications, such as SteelSeries Engine's GameSense, can enable reactive lighting in games like DotA 2 and CS:GO. If you're the type of person who likes to tab out between deaths, set your keyboard to change colors when your respawn timer dings. Terrible at tracking cooldowns? Yup, you can set timed lighting alerts to track those for you.
To see more creative uses for GameSense alerts, check out tips 4, 5, and 6 in A Casual's Guide to DotA 2.
Price
Lastly, and perhaps most importantly, is price. Keyboard prices can range from $30 to upwards of $200. While it's often true that "you get what you pay for," don't be swayed by flashy marketing. A $100 keyboard can perform just as well as one that costs twice that. And while $100 may seem like a lot to throw down on a gaming keyboard, know that you're investing in high-quality, performance hardware that will last for years.
Time to Decide
It's important to balance price with the features that matter most to you. Once you've set a budget, you can start to narrow down your choices.
If you're looking for the best bang for your buck, focus on durability and performance features like ABS or metal construction, 6-Key Rollover (or higher) for anti-ghosting, and switches rated for 10+ million keystrokes. Features like backlighting and macro keys are nice to have, but not at the expense of performance.
If you're ready to invest in a long-term, high-end hardware upgrade, don't settle for anything less than ABS or metal construction, N-Key Rollover, switches rated for 50+ million keystrokes, per-key RGB illumination, dedicated macro keys, and bundled software for customization.
Now comes the fun part - picking out your keyboard! Whatever you choose, know that a good gaming keyboard will stick with you for years and years.