No Lag
The Siberia 840 uses continuous frequency-hopping technology to prevent lag between your game and your headset.
Surround Sound
Immerse yourself in incredible virtual 7.1 surround sound. While most headsets simply feature Dolby Headphone, we feature three different types of Dolby technologies.
Soundscape
The Siberia 840 delivers exceptionally-tuned audio that is perfect for gaming, movies, music and more.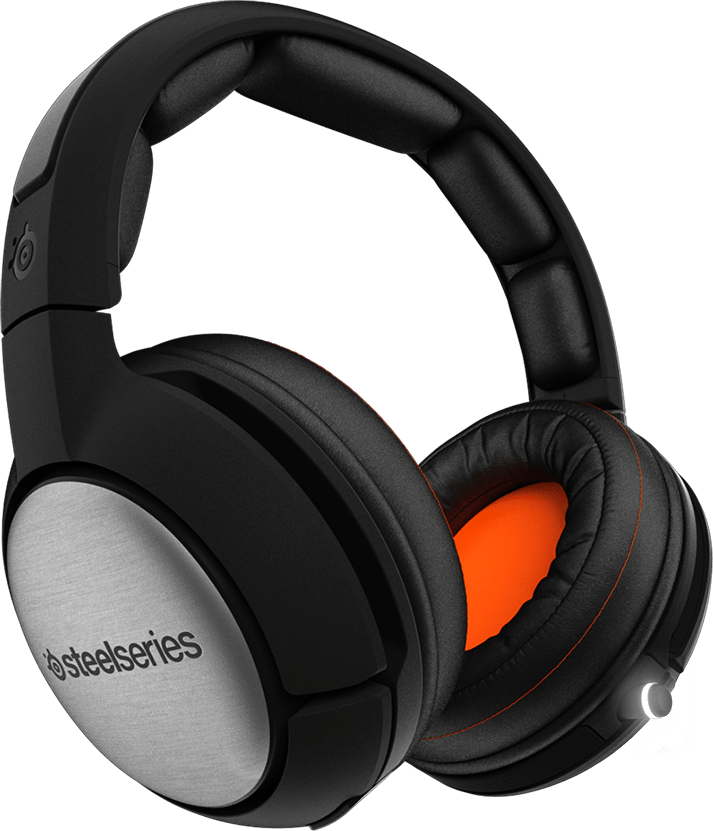 Siberia 840 with Bluetooth
Bluetooth connection lets you chat via VoIP clients through your mobile devices. Gamers can also take calls and stream music, all without ever having to take off their headset.
"The closest thing to a wired headset I've used in the past 3 years. It's perfect."

Alex "LeX" Deily
"I love the fact that I can use it on any platform, one headset for all my needs."

Edwin Castro
Display
Profiles, audio sources, battery life, and volume are shown with crystal clear visuals. The large display makes it easy to see and operate from the comfort of your couch.
Wireless Controls
The on-earcup controls make adjustments quick and intuitive. With the control wheel, you can adjust volume and navigate the most commonly used settings right from your seat.
Visual Chat Mix
You control the audio level balance between the action in your game and the communication from your team. Simply turn up the chat audio to ensure hearing your friends over the explosions. Or turn down your friends if you want to focus on the action.
Hot-Swappable Batteries
Never lose power, never go wired. We included two 20-hour lithium-ion batteries, which can be changed mid-action without the hassle of any cables or wires. The spare battery charges inside the receiver so it's ready when you need it most.
Memory Foam Earcups

A sleek and stylish mix of matte black and glossy finish are highlighted by SteelSeries Orange stitching for a polished look. Add in comfort to style, memory foam padding on the headband and ear-cups delivers enduring wearability.

Hinged Earcup Design

The earcups are equipped with a hinge that allows them to swivel. This allows the earcups to lie flat against your neck when not on your head, as well as the ability to lie flat on your desk when not in use. Covers

On Ear Control

The on-earcup controls make adjustments quick and intuitive. With the control wheel, you can adjust volume and navigate the most commonly used settings right from your seat.

Retractable Mic

The unidirectional retractable microphone of the Siberia 840 picks up the subtle details of your voice with incredible clarity. With the red LED at the tip of the mic, you will always know when you are muted.

Share port

Never leave a friend hanging with the onboard share port. Just plug in a second pair of headphones, and you both can watch that movie in privacy.
Siberia 800
$239.99 USD
Features
No Lag Wireless Audio
OLED Transmitter
Hot Swappable battery system
Dolby 7.1 Surround
Bluetooth
SteelSeries Engine 3 Customization
Siberia 840
$329.99 USD
Easily Customizable
Right out the box, the Siberia 840 is ready to be used. With the OLED receiver, gain access to basic controls, settings, volume, and ChatMix without ever needing drivers.
Personalize with Engine
With SteelSeries Engine, get the most out of your gear when you tie it with SteelSeries Engine 3. Manage your profiles, equalizer settings, and OLED GameSense features all through the user-friendly software.
Complete control
We've designed the Siberia 840 to work with all of your devices. Wherever and whatever you use for entertainment, we have you covered.
CASTRO_1021
Edwin Castro is a Chicago-based streamer who plays FIFA on Twitch. Castro is big on raising money for charity and has raised over $88,000 for St. Jude this year.
Specifications
Speaker drivers
40mm Neodymium Drivers
Effective Range: 10 m, 30 ft
Headphone Frequency Response: 20Hz - 20000KHz
Weight with Battery: 318g, 11oz
Weight without Battery: 297g, 10oz
Max Volume: 100dB* SPL @ 1kHz
Ports: Wired Mode / Share Port,
Chat port, mini USB FW update port
---
Microphone
Frequency Response: 100Hz - 10000Hz
Mic Pattern: Unidirectional
Microphone Sensitivity -44 dB
Microphone Impedance 2200 Ohm
Indication: Red LED on mute
---
Transmitter
Wireless Range: 12m, 40ft straight line
Latency: <16ms, fixed
Ports: Analog In, Analog Out, mini USB,
Optical In, Optical Out, Power
Battery Type: Rechargeable Lithium-Ion, 1000mAh
Battery Life: 20 hours per pack, typical usage
---
Package Content
Siberia 840 Headset & Transmitter
2 Battery packs
6 Cables: Optical, USB, Power, Analog, Mobile, Chat
Power adapter with 4 worldwide plug ends
Manufactured under license from Dolby Laboratories
Frequently Asked Questions
How do I know if the Siberia 840 and the Siberia 800 are the right gaming headsets for me?
Great question! The Siberia 840 and 800 are the perfect gaming headsets for gamers who want no lag wireless audio, Dolby 7.1 Surround Sound, and full cross-platform compatibility. Alternatively, you can use our interactive headset guide, and compare the Siberia 840 and 800 with our other gaming headsets
here
.
What is the difference between the H Wireless & Siberia 800?
The H Wireless was actually rebranded to become part of the Siberia family, so there are no differences between the H Wireless and Siberia 800.
Can I get extra batteries?
Absolutely. However, we can only ship extra batteries to our US customers due to international shipping constraints on lithium ion batteries.
Is the headset compatible with mobile devices?
Yes. The Siberia 840 can be connected to your mobile device via Bluetooth. For the Siberia 800, you can use the share port on the headset with the mobile cable (4pole 3.5mm). The headset should be turned off when using it this way.
Have other questions?
Siberia 800
Immersive Dolby surround sound and high-quality retractable microphone for gaming on PC, Mac, Xbox and PlayStation.
Shipping to:

United States
Secure Checkout with Visa, Mastercard, and Paypal

24/7 Priority Support by Gamers
Siberia 840
Combines all the features of the Siberia 800 with Bluetooth and SteelSeries Engine support.
Shipping to:

United States
Secure Checkout with Visa, Mastercard, and Paypal

24/7 Priority Support by Gamers