Siberia 650
Deep, rich sound reproduction
7.1 Surround with Dolby's ProLogic IIx and Dolby Headphone
Ultra comfortable earcups and suspension headband
Customizable soundscape with included USB soundcard
Superior Sound
The Siberia 650 has rich 50mm speaker drivers, uses Dolby's ProLogic IIx and Dolby Headphone tech, and has a 10-band EQ. There's also a microphone mute and volume dial built right into each earcup.
Extreme Comfort
The suspension headband and memory foam earcups have been engineered to make the Siberia 650 one of our most comfortable headsets ever. The earcups inner openings have been widened on the Siberia 650 for a nice, roomy fit on your ears.
Customization
With SteelSeries Engine 3, you can choose from 16.8 million colors, displayed on the vivid LEDs that encircle the earcups. With the external sound card, you can customize your sound options, too. Options like the 10-band equalizer, noise cancellation, mic feedback, and much more.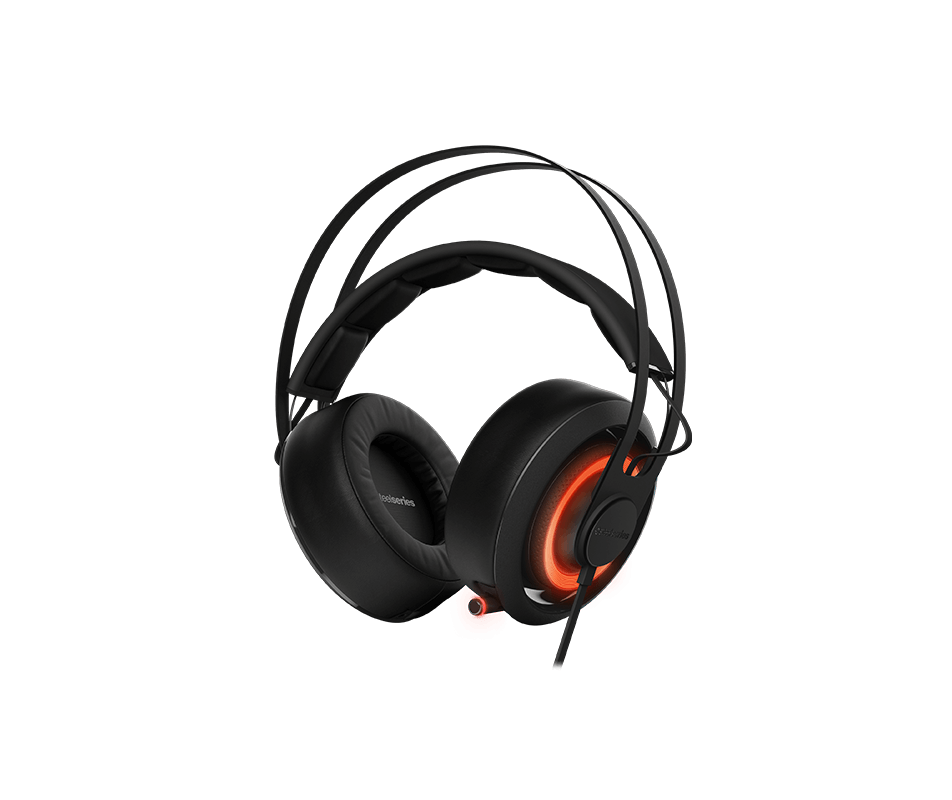 About the Siberia 650
The Siberia 650 USB gaming headset features customizable RGB illumination with 16.8 million colors. It delivers best-in-class sound and comfort.

With SteelSeries Engine, gamers can take full control over the Siberia 650's performance. Customize the illumination within SteelSeries Engine 3, including the colors, brightness and various effects (Trigger, Breathing, ColorShift).
Feature Overview
Memory-foam ear cushions
Dolby Headphone® and Dolby Pro Logic IIx® surround sound technologies
Audio controls on earcups
Retractable unidirectional microphone
16.8 million color illumination
Sound & Microphone
Sound technologies
USB soundcard, Dolby 7.1 Surround
Headphone Frequency Response
Microphone Frequency Response
Microphone Pickup Pattern
Connections
Available connections
USB w/included sound card, dual 3.5mm analog, single 4-pole analog
Frequently Asked Questions
How do I know if the Siberia 650 is the right gaming headset for me?
Great question! The Siberia 650 is the perfect gaming headset for gamers who want Dolby 7.1 Surround Sound, Prism RGB illumination, and unmatched comfort. Alternatively, you can use our interactive headset guide, and compare the Siberia 650 with our other gaming headsets
here
.
What is the difference between the Siberia Elite Prism and the Siberia 650?
The Siberia Elite Prism was re-branded to the Siberia 650. There is no difference between the two headsets.
Can I connect my mobile device to my Siberia 650?
Yes, you can connect to a mobile device when using the 4 pole 3.5mm adapter cable.
Is the Siberia 650 compatible with the PlayStation 4 and Xbox One?
Yes, the Siberia 650 is compatible with consoles when using the 4 pole 3.5mm cable. However, the illumination and surround sound will not be supported.
Is the soundcard that is included with the Siberia 650 necessary for the headset to function properly?
The sound card is for illumination and surround sound on PC and Mac platforms, but the headset can still function without it.