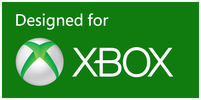 Arctis 9X Wireless Gaming Headset for Xbox
Integrated Xbox Wireless means no cables or dongle required - connects just like a controller

Simultaneous Bluetooth lets you mix in audio from another device while connected to the Xbox or use the headset when on the go

ClearCast noise canceling microphone for natural sounding clarity, Discord certified

The signature soundscape of Arctis emphasizes subtle, yet critical sounds to give you an audio advantage
Best-in-class 20 hour battery life
Included for free
– $14.99 value
+ Arctis Leather Ear Cushions
Or buy from:
Speaker Drivers
Headphone Frequency Response
Headphone Total Harmonic Distortion
Microphone
Microphone Frequency Response
Box Content
Product Information Guide
Frequently Asked Questions
Do I need to plug the headset into a controller for chat?
No, the game audio and chat audio are fully wireless with no need to connect any wires to a controller or even the Xbox itself. Setup is as simple as taking the headset out of the box, putting it in pairing mode, and pressing the connect button on the Xbox. That's it!
What is different about 'Integrated Xbox Wireless'?
The Arctis 9X was developed with Microsoft to include technology that allows the headset to connect directly to the Xbox without any dongle or transmitter. This provides the same convenient wireless functionality of the Xbox controller and with an equally simple setup.
What's the difference between Arctis 7 and Arctis 9X?
The Arctis 9X builds on everything that's great about the Arctis 7, from the sound quality and microphone clarity to the comfort and high end materials. But the Arctis 9X was built specifically for Xbox with the integrated Xbox wireless audio and dual wireless functionality with Bluetooth.
Is Arctis 9X a Bluetooth headset?
It does include Bluetooth, but this is not the wireless method used for gaming. Rather, the Arctis 9X features a dual-wireless system where its direct Xbox Wireless connection is used for gaming while Bluetooth is used to connect to mobile devices. The best part of this system is that audio from both wireless connections can be used simultaneously. So while gaming on the Xbox you can also be listening to music, chatting with friends on Discord, or taking a phone call.