Many of us are still working from home this summer. Here's what games have been keeping the SteelSeries staff busy:
---
Koob from social:
Playing:
Source: PlayValorant.com
Enjoying:
Valorant because it's one of the first team-based FPS games I've taken seriously and it's nice to see improvement when committing to a game like this for me
Not enjoying:
Fortnite because I get wrecked virtually every game now:'(
---
Chris M. from engineering:
Playing:
Rocket League
CoD Warzone
Frostpunk
Last of Us 2
Minecraft Dungeons
Source: CallOfDuty.com
Enjoying:
Warzone, fun with friends
Not enjoying:
Frostpunk, super hard
---
Kleon from marketing:
Playing:
Valorant w/ a side of more Valorant
Sims 4
NBA 2K20
Jackbox Games
Source: PlayValorant.com
Enjoying:
Valorant - Satisfying to win with a solid squad and super fun to play with friends
Not enjoying:
Sims 4 - Not a hard dislike but I don't know why I spend 4 hours building a house only to not live in it lol
---
Ryder from customer experience:
Playing:
The Binding of Isaac: Rebirth
7 Days to Die
Total War: Warhammer 2
Civilization 5
Skribbl.io
Source: 7daystodie.com
Enjoying:
7 Days to Die honestly, the co-op experience with your friends of surviving zombies just feels so good. Skribbl.io is a close second though, watching friends attempt to draw is a true masterpiece.
Not enjoying:
None of them! They're all games close to my heart that I love playing.
---
Christian the PR guy:
Playing:
The Last of Us Part II
Pokemon Shield
Animal Crossing
Witcher 3
Source: thelastofus.playstation.com
Enjoying:
The Last of Us Part II - I didn't think it was going to be my kind of game, but it ended up being incredible. One of the only games that's really stuck with me after I completed it.
Not enjoying:
Unpopular Opinion: I don't really vibe with Valorant lol
---
Alex from software engineering:
Playing:
The Steam summer sale hit my wallet yet again this year.
Star Wars Jedi: Fallen Order
Persona 4 Golden (new PC release)
Animal Crossing: New Horizons
Smash Bros. Ultimate
Psychonauts
Prototype
The Binding of Isaac: Rebirth
Rocket League
The Witcher 3: Wild Hunt
Source: animalcrossingworld.com
Enjoying:
Animal Crossing has been a vice of mine since it came out in march. 300+ hours on my island went by in the blink of an eye. Really good game, super relaxing. Really enjoying Persona 4 Golden so far too. Played through most of Persona 5 on PS3 a few years back, but the PS3 hardware/controller wasn't ideal. Being able to play persona on PC with high framerate/resolution is great.
Not enjoying:
Honestly, I haven't bought any games recently that I haven't liked. I usually do a lot of research reading reviews and such before I make game purchases.
---
Thane from software:
Playing:
Doom Eternal
The Last of Us Part II
Divinity Original Sin 2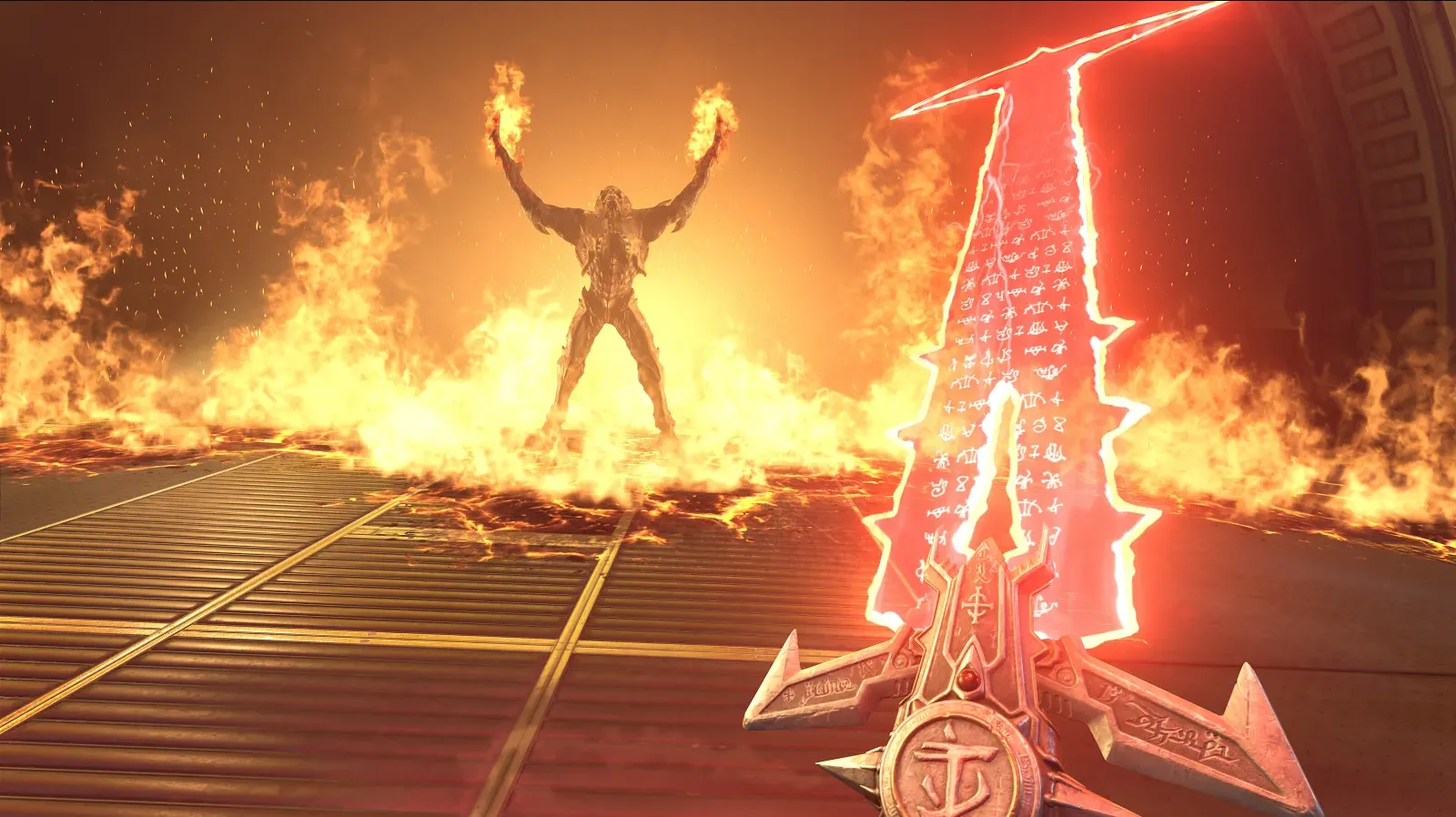 Source: slayersclub.bethesda.net
Enjoying:
Doom Eternal. Such a blast to play -- figuratively and literally. It knows exactly what it is, and it nailed it.
Not enjoying:
Although I love the game, it's pretty clear sometimes that Divinity Original Sin 2 is needlessly complicated.
---
Vincenzo G. from software & services:
Playing:
Dark Souls
The Last of Us Part 2
Hollow Knight
Hitman
Source: thelastofus.playstation.com
Enjoying:
The Last of Us 2. This game become one of my all-time favourite game. I liked everything, from the art direction to the amazing story focusing on moral relativism and gameplay. I also cried when... (I won't spoiler) :)
Not enjoying:
Hitman, I found the gameplay too repetitive maybe it's not really my game genre
---
Don from customer experience:
Playing:
Skul: The Hero Slayer
Gunfire Reborn
Valorant
Source: gunfire.herojoys.com
Enjoying:
Gunfire Reborn, super fast paced arcade Borderlands type looter shooter that you can play with up to 3 friends. It's in early access so there are a TON of bugs but that adds to the fun.
Not enjoying:
Valorant, because I can't get past Gold 1 :(
---
Nick K. from planning:
Playing:
Source: press.activision.com
Enjoying:
Warzone, probably just because you get to play with friends and kind of hang out in a sense.
---
Jeff C. from product:
Playing:
CSGO
Valorant
Hob
Death Stranding
Gears 5
Enjoying:
CSGO - the dumb funny moments are epic
Not enjoying:
CSGO - the troll is strong in the crew. Tilt is real. Also low trust-factor is painful.
---
Jakob from ecommerce & marketing:
Playing:
Valorant
CS:GO
World of Warcraft
COD
Enjoying:
Valorant! Newest and most exciting FPS game out there right now imo. It's such a fun hybrid between hardcore FPS and MOBA. Best of both worlds from CS:GO & Overwatch i think.
Not enjoying:
COD - Wasn't really my type of game
---
Russ B. from customer experience:
Playing:
Enjoying:
Wow Classic
Not enjoying:
Wow Classic
---
Scott H. from business dev:
Playing:
Overwatch
Super Smash Bros
Skate 3 (bring on Skate 4!!)
What the golf
Enjoying:
Super Smash Bros. Been playing competitively since the new DLC drops
Not enjoying:
Halo 2 MCC on PC. Huge Halo fan... extremely sad with all the bugs :/
---
Brandon W. from customer experience:
Playing:
NBA 2K20 because I miss basketball so much :(
Tony Hawk Underground 2 THUGPRO mod
Enjoying:
THUGPRO - Tony Hawk mod that adds in maps from all across the series and allows you to play up to 8 players online. It's honestly incredible and nostalgic. Also an awful lot of NBA 2K20 because I miss basketball so much. The game has been...frustrating, but in a good way!
---
Ben V. from demand planning:
Playing:
Enjoying:
I'm a bit late to the party, but I just picked up playing Overwatch, and it has been a blast playing with my roommates! What really hooked me was how chaotic the game play is.
---
Allen from customer experience:
Playing:
Destiny 2
Escape from TarkovThe Forest
Call of Duty Modern Warfare
Enjoying:
Destiny 2: Season of Arrivals just started, and it's building up to the new content releasing in September (Beyond Light)
Not enjoying:
Surprisingly, Escape from Tarkov.....I can't seem to escape Tarkov...
---
Nathan from engineering:
Playing:
Been playing a lot of old GameCube games on a sticker covered CRT I found in the alley behind my apartment.
Wind Waker
Paper Mario: Thousand Year Door
Enjoying:
The writing and gameplay of Paper Mario really holds up. I also forgot how every GameCube era Mario game is packed with Pinatas. Remember those guys?? Wind Waker holds up beautifully as well. It's every bit as charming as I remember it.
---
Richard from software:
Enjoying:
Elder Scrolls Online has completely taken over my game time. I think they've made some interesting tweaks on the MMORPG formula that offer great variety in gameplay. I've enjoyed my time playing story quests almost like a standalone single player game, developing crafting skills to make meaningful gear and eventually dominate the economy, diving in deep on thievery and assassination content, while also gearing up a character to dominate in the PvP world.
One of the more interesting gameplay decisions to me is how characters are scaled with world content, so for the most part characters of any level can play together. We introduced a friend to the game and we could immediately bring him into the fold and enjoy the game as a group without waiting for him to "catch up"
---
Lucy from product management:
Playing:
Animal Crossing: New Horizons
Enjoying:
Animal Crossing is a super cute and relaxing game. Best part is that be able to playing with friends, visiting their island and hangout together. Great game especially in quarantine time.
Not enjoying:
I could be bored of Animal Crossing pretty soon as well. LOL
---
Angela from creative:
Playing:
IRL
Overwatch
Animal crossing
Enjoying:
Animal Crossing, because I started late so it's still pretty fresh and interesting.
Not enjoying:
Animal crossing, because I ran outta things to do everyday.
---
Marius from product management:
Playing:
Old World
Outward
Battle Brothers
Outer Worlds
Mount and Blade II
Enjoying:
Outward.
It's a brutal and beautiful open-world fantasy RPG with some of the most frustrating, yet rewarding encounters I've experienced in gaming. Outward's combat and lack of hand-holding are reminiscent of the Souls series, where trial and error (lots of error) are your only guides. It also supports co-op, which really enhances the experience.
Even a fight against starting zone mobs feels like an end-game boss encounter. And if the punishing combat weren't enough, you're constantly battling the elements, hunger and thirst, and various ailments to stay alive.
Lastly, there's no XP or leveling system. Instead, you unlock spells and skills from various trainers, and can alter your playstyle on a whim without having to completely respec.
TLDR: A free-roam Souls-like with punishing, yet rewarding mechanics.
Not enjoying:
Outward, and for many of the same reasons mentioned previously.
You'll die for stupid reasons, because the game never warns you about infections and sickness, nor how to cure them.
Some quests are time sensitive, which is never made clear outside of various NPCs urging you to complete it quickly. As a result, I failed to complete a questline in time which led to the destruction of a pretty significant location in the game and the destruction of my "persistent" storage chest. Of course I can go on, but I've lost 40+ hours worth of rare items and resources.
Once the salt settles, I'll probably begrudgingly roll a new character.
---
John D. from web engineering
Playing:
Baldur's Gate 1 and 2
Planescape Torment
Minecraft Dungeons
Call of Duty: Warzone
Animal Crossing
Xenoblade Chronicles Remastered
Destiny 2
Chess
Enjoying:
Baldur's Gate 1 and 2 - it's been really satisfying playing this old RPG series again on Switch, preparing myself for Baldur's Gate 3 this fall.
---
Megan from marketing
Playing:
Final Fantasy XIV
Final Fantasy VII Remake
Dota 2
Diablo 3
Enjoying:
Final Fantasy XIV (the MMO one). I've played this game and it's expansions on and off for years, but usually not for more than a month or so, since MMO's can eat up so much time. Working from home has given me more time to play, so I've been re-subscribed for a few months now, and had a fantastic time leveling a white mage healer for the first time. Also just started Final Fantasy VII Remake and absolutely loving how they chose to modernize it.
Not enjoying:
The older I get, the less I enjoy competitive esport games like Valorant. A long time ago I was a proud StarCraft player and would grind ranked games every day, and that later included Dota 2, CS:GO, etc. Now I'd much rather settle in with my lapdog, have a cool drink, and play a more relaxing game like Diablo 3.
---
Jim from R&D:
Playing:
Modern Warfare/Warzone
Valorant
Far Cry 5
Sea of Thieves
Cloudpunk
Legends of Runeterra
Tetris Effect
Enjoying:
As fun as it can be to grind away at a competitive FPS, lately I've needed to take a break to enjoy games that are a little more relaxed and atmospheric. Hoping on a ship with friends in Sea of Thieves has been a fun way to socialize while taking in some superb scenery. The sound design in Cloudpunk and Tetris Effect makes every game chill and enjoyable.
---
Joe from creative:
Playing:
DOOM 2016
Darksiders: Genesis
The Last of Us 2
Enjoying:
TLOU2. Most emotional, provocative and deeply engaging game I have ever played. Game of the decade (I'm calling it).
Not enjoying:
Out of the 3; I'd have to say Doom.
---
Toni from digital:
Playing:
Animal Crossing: New Horizons
Fire Emblem: Three Houses
Civ 6
Enjoying:
Animal Crossing: New Horizons - getting to play with friends while catering to my inner completionist, this game made transitioning into quarantine so much better
Not enjoying:
Civ 6- barbarian spawn rate seems higher compared to Civ 5..no? just me?
---
Jordan from product management:
Playing:
Total War: Atilla
Warhammer 2 (just had a really good and challenging Imrik High Elf campaign)
Sea of Thieves (now that it's on Steam, it's also fun game I can co-op with my son. Get on the boat!)
FFXIV Online
Enjoying:
I've loved the Total War games since the original 2000 Shogun. I really enjoy the mix of a turn based strategic campaign map with real time massive tactical battles, usually with historical context, although Warhammer is awesome too! It just hits the right mix, of strategy, wargame, and even RP flavor for me to really get in to.
Not enjoying:
I tried getting into Grim Dawn, but I actually found the loot management to be a bit of a chore, along with the ultimate stat minutia I just couldn't click with game. Great atmosphere though and a true hardcore ARPG lover's game, so I get why it has such a happy following. Respect for the game but not currently what I'm looking for.
---
Zach H. from console division:
Playing:
The Last of Us 2
Control - The Foundation DLC
Doom Eternal
Apex Legends
Enjoying:
Control - The Foundation DLC: I love this game! It's like David Lynch directed a game featuring the mechanics of the Gravity Gun from Half-Life 2.
Not enjoying:
The Witcher 3 on Switch - it's too much smashed into a small screen.
---
Ehtisham, CEO
Playing:
Northgard
Total War Three Kingdoms
C&C
Enjoying:
Command & Conquer Remastered, mining Tiberium and destroying NOD in high-res.
---
In conclusion, it turns out that Animal Crossing, Valorant, The Last of Us 2, and Call of Duty: Warzone are the most popular picks from our staff right now, but we're playing plenty of other games too. Cheers!
Find staff, streamers, and other gamers on the official SteelSeries Discord server!