Discord is unveiling username changes; what does this mean for you, and what do you need to do? We'll cover the changes and rules to answer your questions.
---
According to Discord, over 40% of you guys don't know the discriminator of your username! (the discriminator are the #xxxx four digits attached to your acount name). That, alongside casing (lower or uppercase matters) are the primary reasons why Discord users fail to match up with friend requests. Therefore, changes are being rolled out to create new acount names with a few rules.
If you haven't seen it yet, this change is being rolled out, so sit tight. You will eventually get a pop up in your Discord. If you opt out of doing it at that time, you can initiate it yourself later by one of the following ways (remember, only after you've seen it pop up the first time):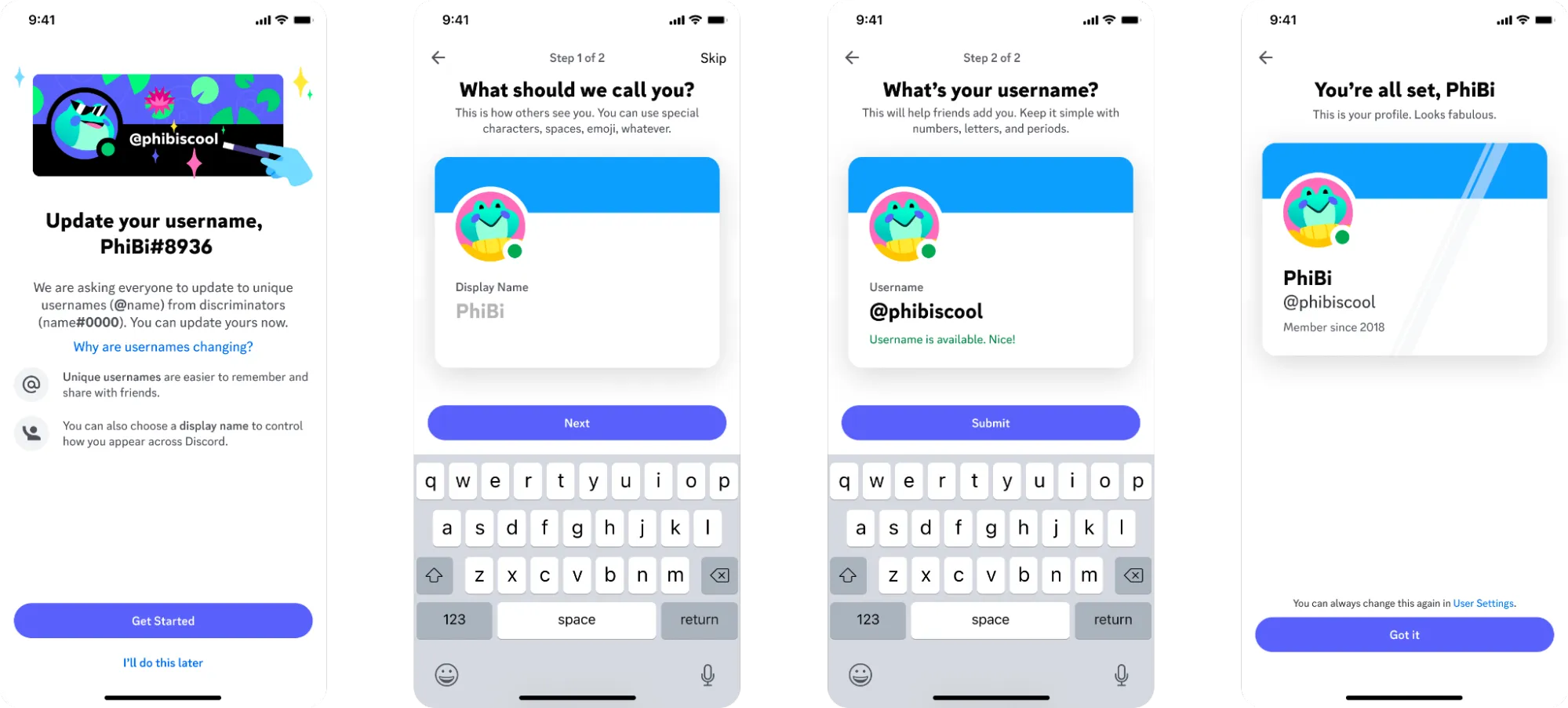 On mobile, that is how the pop up will look when you open the app.
On desktop, it will be different. You will go to User Settings (the cogwheel in the bottom left of the screen), then go to My Account. Click on the bar at the top to proceed.
Discord Username vs. Display Name
Think of the Username as like your "account" name, your official @ or your ID, but without the four digits now. Here are some of the rules for making a Discord username to guide you:
lowercase (no capital letters!)
alphanumeric (letters and numbers allowed)
no special characters other than underscore and period, and can't have two periods in a row
between 2-32 characters long
There are a couple more rules, prohibiting impersonation of Discord staff, a group, individual, or organization; and nothing inappropriate or hateful.
Now with your Display Name, you have more freedom. This is the name you'll primarily be seen as, even outside your favorite servers (like when you DM someone). Server nicknames will still override this, so don't worry, your friends can still refer to you as pepegaOmEga.
While still adhering to Discord Community Guidelines, your Display name can be 1-32 characters long, can have caps, spaces, and emojis. So, go wild.
When is the Discord username change coming?
The change is rolling out over a few months, but Nitro users will likely see this faster. It's best to do this change as soon as you can, because otherwise the username you want might be taken. If it is, use an underscore _ or period. Your Display Name doesn't have that restriction.
Some people may still have their old usernames with digits during the transition.
In summary, nicknames aren't changing, you need to pick out a unique Username that is akin to your account name, and you can still have pretty much the Display Name you want.
While you're at it, pick up a Discord-certified gaming headset (all the Nova headsets are!) from us to sound great while gaming and talking to friends.
Blog header and images source: Discord.com
Also check this out: