It's time to level up your mobile gaming experience. Easily gain a competitive edge over other mobile gamers and bring yourself a console-like experience wherever you go, with comfort and ease.
---
Mobile gaming is a huge part of entertainment worldwide, but those experiences aren't always ideal. As many full-fledged games receive ports for the small screen, sometimes sacrifices have to be made, often with drastic changes to controls. Get ready to up for your game with our newest mobile gaming controller, designed for comfort, performance, and convenience.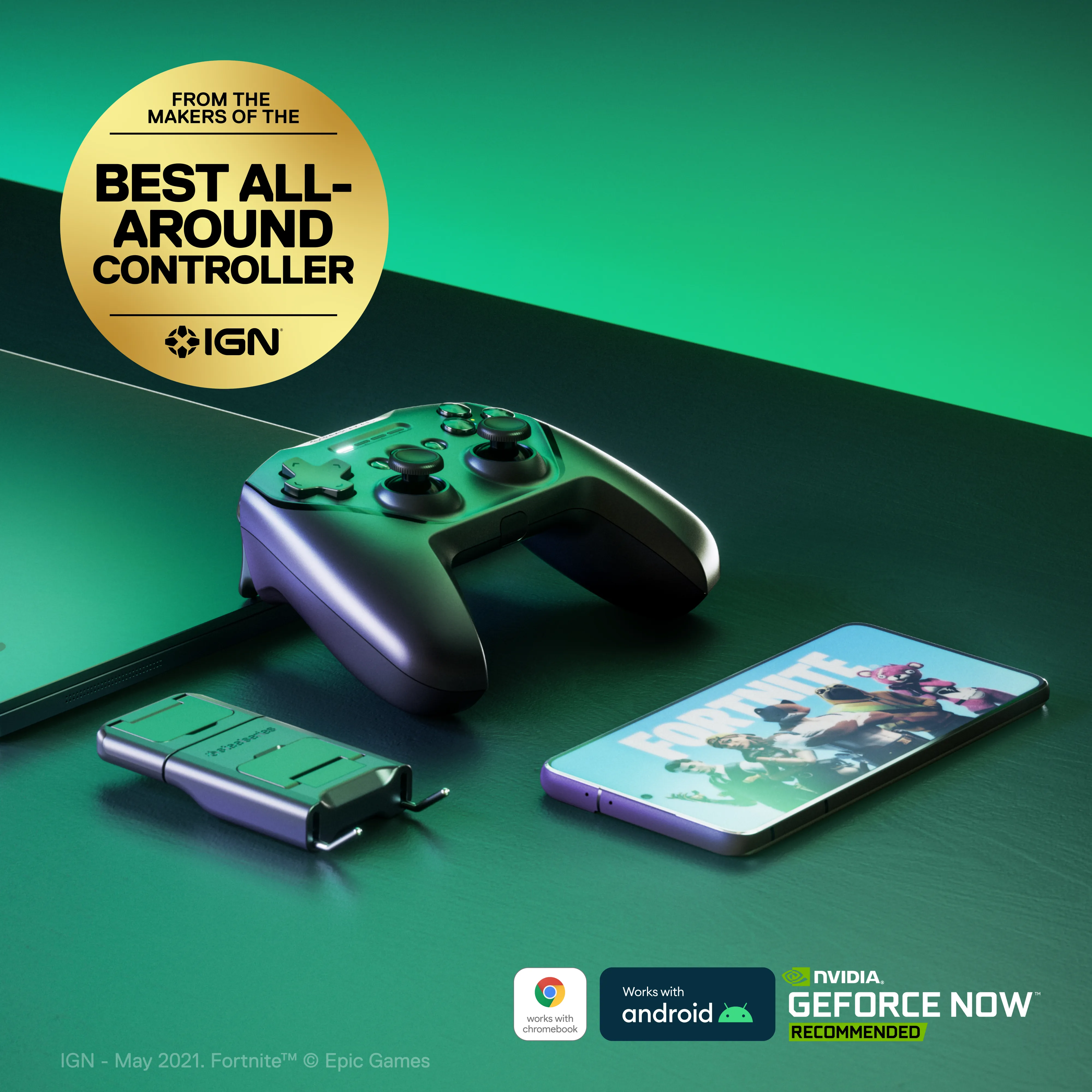 The Stratus+ offers a full console experience on the go with a combo of fantastic features.
Android™+ Chromebook Bluetooth LE connectivity — Easily connect to any Android device or the Chromebook using wireless technology, and also use this as a Windows PC controller via USB connection (USB-C to USB-A cable included)
90-Hour Rechargable Battery — Game longer than ever before with a mobile controller, and even if you forget to prepare, fast charge has your back, giving 12 hours of usage after 15 minutes of charging
Slim-Profile Phone Mount — A detachable mount fits virtually any phone for a convenient experience on the go, freeing your hands for total control in the game
ALPS Analog Thumbsticks — Experience increased precision with accurate thumbsticks with clickable L3/R3 buttons for additional commands when applicable
Hall Effect Triggers — New magnetic sensor triggers offer a better trigger feel for a lifetime of precision and consistent smoothness
Our latest in mobile gaming controllers, the Stratus+ transforms gaming on-the-go into a near-console experience. Whether you want increased accuracy for mobile FPS titles, or much better controls for platformers and ports of popular console and PC games, the Stratus+ gives you ultimate precision for a console experience on your phone like never before.
Recommended controller for NVIDIA's GeForce NOW
The Stratus+ is an officially recommended controller for NVIDIA's GeForce Now cloud gaming service, which taps into a powerful PC gaming ecosystem by streaming from world-class NVIDIA GPUs, even on low-end devices. Whether you're using a PC, Mac, Shield TV, or Android, this service enables you to play titles from the biggest digital storefronts, including Steam, Epic Games Store, Origin, Ubisoft Connect, and GOG.COM, granting you access to your libraries on the go. With streaming at up to 1440p resolution and 120 FPS on PCs and Macs, and 4K HDR at 60 FPS on SHIELD TVs, the possibilities never cease when paired up with the Stratus+.
Stratus+ in action