Welcome to Arctis.
Thank you for purchasing an Arctis 3 Gaming Headset. To enjoy 7.1 Surround Sound, advanced audio, and mic customization options on your Arctis 3, please follow these simple steps below!
Requirements:
Windows 7 or newer
*7.1 Surround Sound not available on Apple operating systems.
1.

Log in or create your SteelSeries ID
2.

In the My Products section, enter your product code provided in box.
a. Login to your account by clicking on the account icon in the navigation bar of steelseries.com
b. Once you're logged in, visit your account dashboard. From the dashboard click on "My Products" in the side navigation.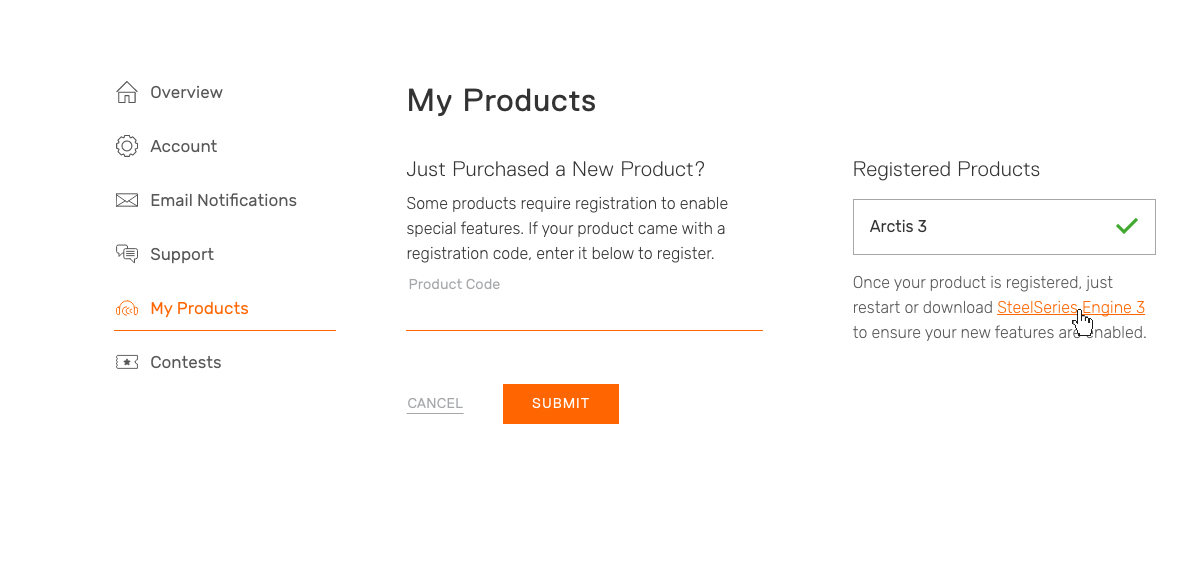 c. Enter your product code into the product code field and submit. Upon successful submission your registered product will show up under the "Registered Products" section.
3.

Download and install the latest version of SteelSeries Engine 3
4.

Login to your SteelSeries account to begin the software installation for Arctis
a. Login to your account by clicking the account icon in the top right hand corner of SteelSeries Engine 3.
b. Enter you account credentials into the login form and click submit.
c. Once logged in, Arctis 3 will automatically appear in your "My Gear" tab. To enable virtual audio features, finish software installation by clicking on the red software install prompt below the Arctis 3 device card.
d. It may take a minute for the software to download and install. Once installation is complete, you are ready to begin customization!
e. Click on the Arctis 3 device card to open the Arctis 3 configuration window.